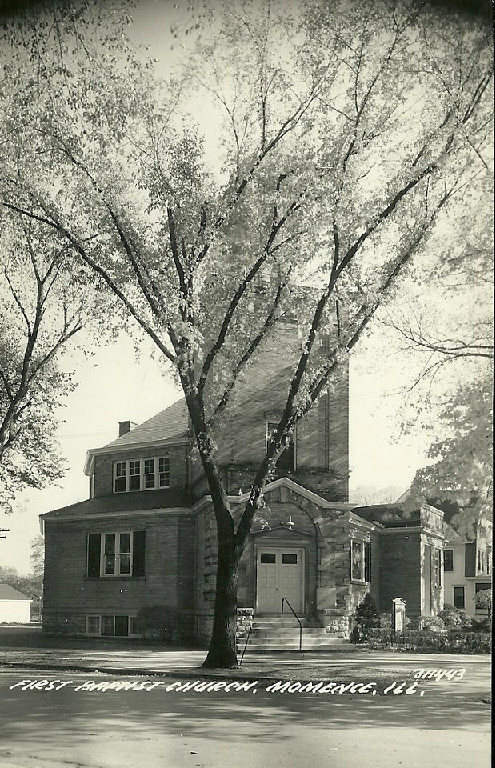 Our Story
On November 6, 1852 a group of Baptists met in the home of William McNutt to consider plans for organization. The church was formally organized on December 16, 1852 with twelve families as charter members of the First Baptist Church of Momence. The very next year, 1853, a small white church building could be found at the corner of Range (now Dixie Highway) and Third Street.
Through the first 50 years the church saw many struggles, the strong faith of a few persisted and by the turn of the century, the congregation had outgrown the original building, and a new church was built in 1902 in the same location after the faithful little white church was moved aside into an adjoining alley.
Through the years the gospel message was reaching out from the cornet of Third and Dixie Highway and the Castleon Sunday School operated five miles east of town reaching many who would otherwise have found it hard to get to church in town. The Parish Chapel on the south side of the river served those of the immediate area on the southern edge of town.
The next fifty years saw war, depression, and of course the prospering times of the roaring twenties. The church continued to grow through these ups and downs.
Following the centennial year in 1952 the church continues to grow both in membership and in spirit, until in the early 1960's, it became evident that the church building plus the two adjacent houses purchased as annexes were not adequate to house the large congregation.
In 1966 plans were drawn up and First Baptist laid the cornerstone at a new location southwest of town in 1969. The congregation held services in the new church in 1970 and it followed with a week-long celebration dedicating the new building.
Once in the new building, exciting new things began happening. New ministries have included the establishment of a Daycare Center in the 1970's, beginning of a dynamic pioneer Clubs ministry in the 1980's and the installation of video equipment and development of a praise band in the 1990's. As we begin a new millennium, we are convinced that our most glorious days as a congregation are ahead of us.